Vintage Universal Geneve watches
Discover our selection of rare Universal Genève watches available online.
Updated everyday, add this page to your favorites if you like old Universal Genève chronographs.
A daily selection of rare vintage Universal Genève
Our team daily selects the most sought-after vintage Universal Genève currently available online. If you are looking for a Universal Geneva Polerouter Sub Diver 869109/01, a Space-Compax Valjoux 72 or a more common Polerouter Microtor 329805 in mint condition, you are on the right page to find it. We source our vintage models from collectors and serious suppliers who regularly provide some nice pre-owned Universal Genève. If you are looking for a specific model, feel free to send us an email and we will try to help you find it.
UNIVERSAL GENEVE WATCHES FOR COLLECTORS:

Universal Genève, a famous brand for watch collectors
Universal Genève, founded in 1894 in Switzerland, is a prestigious Swiss luxury brand. U.G. is famous for having produced the first chronographic watch in 1917 and some mythical models like the Compax Nina Rindt with its famous Valjoux 72 movement (reference 885105/02 or 885103/01 the "Evil Nina"). Vintage Universal Genève are very popular among knowledgeable watch collectors who don't want to wear the same Rolex Daytona as all other collectors.
What is the value of a vintage Universal Genève ?
Rare Universal Geneve can reach very high value in auctions, for example this Universal Genève Nina Rindt Compax 885105/02 has reached the level of $16100 on Watch-Deal with 24 collectors fighting for it... and as you can see it wasn't a watch in mint condition... but it is an exceedingly rare Universal Genève reference: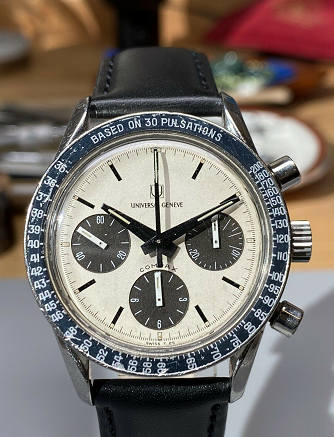 To give you other examples, a Universal Geneve Compur 30 will be found around $700 and a Universal Geneve Polerouter Sub Diver 869109/01 Cal 69 will reach around $2000. For more common Universal Genève, have a look at the bottom of our Universal Genève catalogue.
How to get a Universal Geneve wristwatch on this page ?
There is nothing easier : have a look to our catalogue of vintage Universal Genève and click on the UG you like. We will then automatically redirect you towards a secured site where you could get it. If you have any questions about a model, please drop us an email. You will find a lot of information about Universal Geneve watches on specialized watch forum like Watchuseek.
Watches for sale :

Top 100 Watches :
Top 100 Watch Auctions
Top 100 Vintage Watches
Top Watch 24h
Top Watch under $1000